In-Doorway, Off-Broadway Puppet Theatres!
Author: Amber and Laura Miller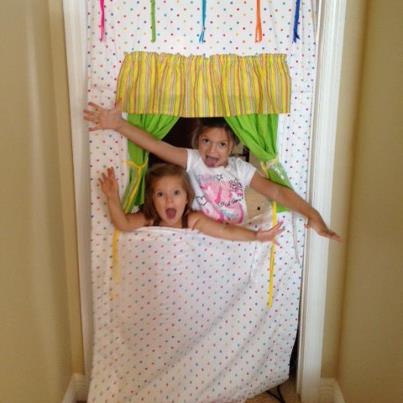 Just for Kids - NEW!
Designed by Amber
Bring books to life with this in-doorway puppet theater. As an art teacher, I see the tremendous benefit of being able to communicate a message effectively, whether it is visually like I do on canvas, or by acting it out physically. Children can create art by making their own puppets and backdrops. They can learn about set design and practice effectively communicating beginning, middle, and end of stories, whether it's a book you just read to them (or they've read!) or a imaginative story they've made up!
Measures 60 inches long by 32 inches wide. Fits standard doorways and openings. All you need is a 28 to 48 inch adjustable cafe/curtain rod to mount in your doorway or other opening.
Fits all sizes of doorways and imaginations!
Books come to life and children engage in learning to communicate their ideas artistically!
Can be stored under a stairwell (below) or taken down and rolled neatly for easy storage if you don't want to leave it up, but you probably will enjoy its decorative, functional and entertainment values far too much to ever take down!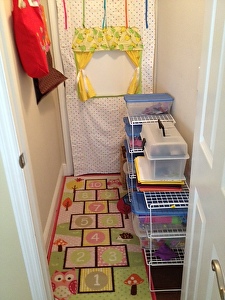 ONLY $60!
FILL OUT THE Contact the Artist form from the main menu, email laura@laurabirdart, or call (407)416-2594 to order your theater now!
Can you even purchase a curtain with valance for your home for that price? I don't think so! This puppet theater is not only hours of entertainment, it can be used as a "drive-up" restaurant window, any storefront of your child's imagination, a divider, a window curtain, a soft-doorway for fearful kids at night or naptime which blocks partially but not fully, and a bookshelf curtain if you want to cover some of your not-so-neat kids bookshelves!
In the photo above: The Defeo famiy of Lil Light of Mine, empowering moms and changing little lives through innovation in the home. Click on the link to see Courtney Defeo's inredible site filled with goodies for moms!
In the photo below is my daughter Amber trying to get Mr. Kitty off of her sewing project. He loves getting into her handiwork, burrowing in the fabric and batting it off the table. Amber is the sewer in the family. She is the one who started this puppet theater sewing project after watching me teach art to the students so they could dig deeper into the illustrations and books. I am so proud of her. Amber also gives 10% of her proceeds to Make a Wish Foundation. I love her heart and her efforts.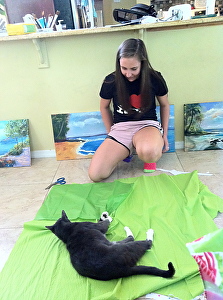 FILL OUT THE Contact the Artist form from the main menu, email laura@laurabirdart, or call (407)416-2594 to order your theater now! We look forward to hearing from you and hearing the stories you share about the creative fun your child is having with THEIR theater...